"Instead of using LinkedIn as a passive billboard, you can use the platform to build connections with other professionals in your niche."
A LinkedIn profile is an important professional material. All students should have a LinkedIn profile to be competitive in the job market. This profile can be used as a more complete record of skills and achievements than the resume; to network with other students; and for students to be visible to recruiters.
The Basics
As with all professional documents, ensure that your LinkedIn profile has:
Accurate spelling and punctuation
Consistent tone throughout
Working links
Compelling Introductory Information
Professional profile photo
Customized background image
Catchy headline that incorporates your target role.
In this screenshot of Lindsey DesRochers' LinkedIn profile, we can see that her profile picture is zoomed in on her face, that her background shows a technical illustration, and that her headline includes her industry and area of expertise.
Contact Information
Ensure that all of your contact information is accurate and up-to-date. In addition, ensure that you list your professional email.
Summary Statement
A compelling summary statement is written in clear language, speaks to your experience and background, and demonstrates your professional qualifications.
Sample Summary Statement
An accomplished application development manager, I develop and manage IT applications that rapidly deliver value to the business. I possess experience creating secure and scalable web systems with state of the art solutions to complex requirements. I am a strong project manager with hands-on leadership skills; special expertise in the management of mission critical Enterprise Applications; high-level research, writing, and public speaking skills; extensive experience working with senior executives. Professional certificates in Amazon Web Services and Project Management aid my ability to deliver excellent service to my clients and lead teams to successful outcomes.
Experience
This section should be listed in reverse chronological order.
Each entry should include the following:
Job title
Company name and location
Dates of employment
Your experience section should include your accomplishments, not just your job duties. Use results-driven bullets to highlight previous project management experience.
Sample Experience Section
Applications Development Manager
County Government
Jun 2019 – Present
Provide strategic management for a team of ten web and digital application developers
Work with Business Analysis manager to provide a comprehensive view and development efforts across the various platforms
Identify improvement points in the project process and in the development tools/environment utilized for Rule Base development
Design, develop, test, implement, and maintain application software working with established processes
Senior Software Developer
IT Company
Oct 2015 – June 2019
Project Lead, Microsoft SharePoint Implementation: internal solution for teams and
departments to have custom content control, versioning, workflow and search
capabilities.
Successfully managed the IT Team to maintain and enhance the company's network
infrastructure as well as internal applications and web systems.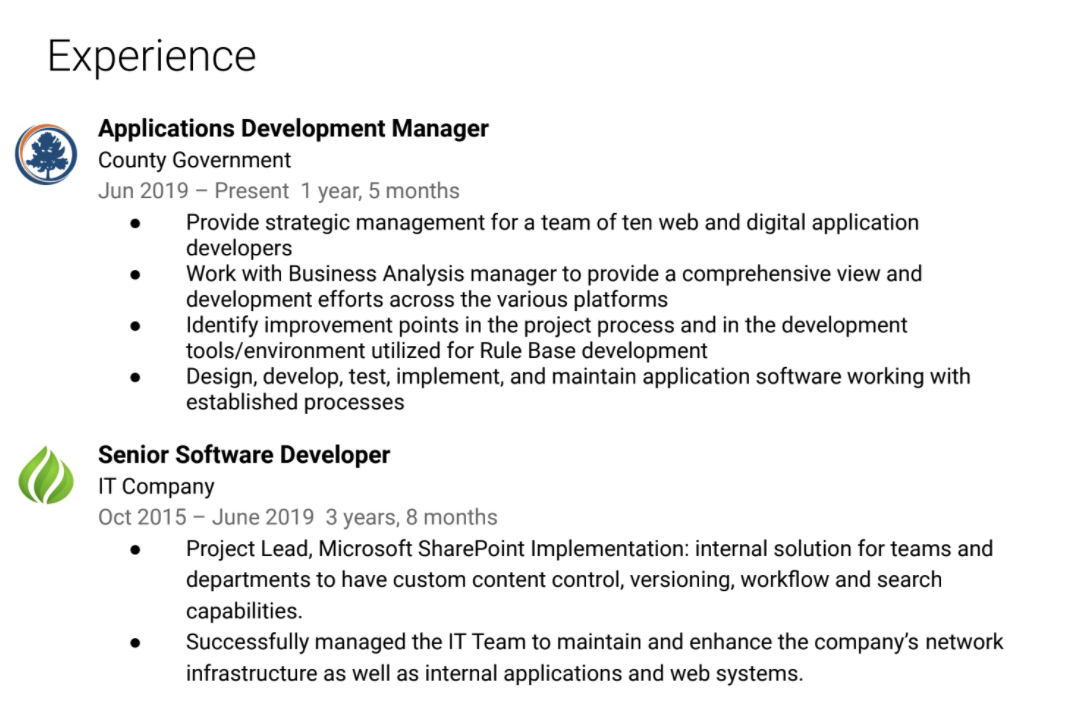 Education
Like the Experience section, this should be listed in reverse chronological order. Include any boot camp as a certificate.
Sample Education Section
Because Lindsey has a degree and professional certificates, she's separated her Education section to bring attention to both.
Skills
Your skills section should include at least 20 skills and interests. The skills should be a mixture of technical and transferable, and the interests should be a mixture of personal and professional.
Sample Skills
Industry Knowledge
Agile Methodologies
Business Process Improvement
Risk Analysis
Meeting Facilitation
Scope Management
Project Planning
Resource Budgets
Stakeholder Management
Tools and Technologies
Agile/Scrum
Jira
Microsoft Office
SQL
Slack
Wrike
Interpersonal Skills
Conflict Management
Leadership
Team Building
Problem Solving
Other Skills
Microsoft Suites
Confluence
Tech-savvy
Projects and Recommendations
Include at least 2-3 projects or features with working links. Also include at least 2-4 recommendations that attest to your skills and work ethic.
Sample Projects and Recommendations
Lindsey has listed her certificate in her Featured section, and included recommendations from one former coworker and one fellow program student.
Former Coworker
Lindsey is a natural leader and has a keen sense of detail. She and I worked together on various projects, where she showcased excellent analytical and communication skills. She is thorough, organized, and very reliable.
Fellow Program Student
If you were to ask any of the other members of our cohort who has helped them the most, they would all unanimously say Lindsey. She is always first in line to put her knowledge to the test and solve problems. Lindsey is a natural leader, yet humble enough to join the ranks, pulling her fair share of heavy duties.